May 9, 2013
JAMES BRAWN CD SIGNING - SATURDAY 1ST JUNE
BEETHOVEN PIANO ODYSSEY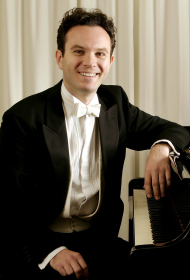 Forsyth Brothers are delighted to welcome international concert pianist James Brawn to sign his first volume, of what promises to be an extraordinary cycle of Beethoven's piano sonatas. This is a one time opportunity to meet Mr. Brawn face to face, and purchase his new recording signed.
"A tremendous display of pianistic virtuosity with a powerful interpretation." Evening Telegraph (UK).
Since his Mozart K.503 concerto debut in Australia aged twelve, pianist James Brawn has forged his own musical path of discovery, studying with great pianists who can trace their pedagogical lineage back to Beethoven, Chopin, Liszt and Clara Schumann.
James was born in England, but has lived around the world in New Zealand, Australia and the USA. Starting piano lessons at the age of seven, James performed on New Zealand television and won his first awards in Auckland in 1979. His family moved to Melbourne the following year where his musical studies blossomed through the 1980s with Margaret Schofield (a pupil of Solomon), Ronald Farren-Price (a pupil of Arrau) and Rita Reichman (a pupil of Serkin and Horszowski), winning major prizes at eisteddfods and scholarships including the Hephzibah Menuhin award presented by Yehudi Menuhin. While still at school, James performed concerti by Mozart, Beethoven 4, Saint-Saens 2 and Rachmaninoff 2. He also reached the concerto final of the ABC Young Performers Awards in 1987, leading to concerts with the Adelaide and Melbourne Symphony orchestras under conductors Omri Hadari and Patrick Thomas.
With a major overseas study grant from the Australia Arts Council, James was able to continue work with his mentor, Rita Reichman in Philadelphia, gaining a full scholarship to the Royal Academy of Music, London, in 1988. There, he studied with Frank Wibaut and Christopher Elton, winning many recital awards including the Beethoven, Romantic and 20th century prizes, and performing in master classes with great pianists including András Schiff, Tamás Vásáry, Stephen Kovacevich, Fou Ts'ong and Menahem Pressler. James also studied chamber music with members of the Amadeus and Chilingirian Quartets and attended the Britten-Pears and Lake District summer schools. At the age of 19, James won the Keyboard final of the Royal Over-Seas League Music Competition, performing at the Queen Elizabeth Hall in London.
Recitals as soloist and in chamber music partnerships followed around the UK at music societies and festivals, including performances at the Purcell Room, St. Martin-in-the-Fields and St. James' Piccadilly. James furthered his studies with the Armenian pianist, Nelly Akopian-Tamarina, and the Slovenian pianist, Marina Horak.
In 2001, James moved to Melbourne where he took up a position at Scotch College, in one of the finest music departments in Australia. Since that time he has worked on many artistic projects, performing for music societies, universities and festivals in Australia, China and the UK. James has recorded for ABC Classic FM and 3MBS radio and is co-founder of the biennial Scotch College Melbourne Piano Festival. Recent programmes have included 'The Time Traveller', 'Russian Promenade', 'The Bach Code' and 'My Beethoven Odyssey'.
Now based in the Cotswolds, James begins his odyssey to perform and record the complete Beethoven piano sonatas through 2011 - 2015. In April 2012, recording started at Potton Hall in Suffolk working with producer Jeremy Hayes. This season, James performs solo recitals in London, Birmingham, Cheltenham, Chichester, Paris, Sicily, the Cotswolds, Manchester, Glasgow, Brunei, Hong Kong and New Orleans.
~
To travel in time, allowing music of the great composers to flow through me and connect with my audience is one of the most joyous and transcending of life's experiences. I feel very fortunate and privileged to be a pianist in the twenty-first century and would love for you to join me at one of my concerts this season. 'A Beethoven Odyssey', my first album for MSR Classics, is now available from Forsyth Brothers Limited.  It includes the 'Appassionata' and Op.2 no.1&3 piano sonatas.
Warm wishes,
JB
~
THE REVIEWS
"this British-born pianist who appears to have lived all over the world still supplies significant pleasure in the first volume of his Beethoven Odyssey, already on sale online… [the] Sonata No.3 [and] the Appassionata. [are] crisp and forthright, thoughtfully phrased, with a judicious balance between head and heart."
[ * * * ] Geoff Brown, The Times, London [22 March, 2013]
"Brawn has everything it takes for a Beethoven interpreter, including an unfailing ear for sonority and dynamics, a superb sense of rhythm, a keyboard touch judiciously varied according to the particular sound and texture he wishes to evoke, and an intelligent grasp of the entire musical canvas of each sonata, and not just its choice details, as delicious as they often are.
That guiding intelligence carries over into his program building, as well. In the present instance, placing two of Beethoven's earliest Sonatas, Opus 2, No. 1 in F minor and No. 3 in C major in the same recital as his mature middle period masterwork No. 23 in F minor, Op. 53, the universally acclaimed "Appassionata," was more than just a stroke of luck. These early works of 1795, too often dismissed as transitional works with roots in the Viennese Classical Era, actually look boldly to the future, and Brawn does not take them lightly. Both use their opening movements to set the mood for all that follows, in a way the classical sonata of Mozart and Haydn seldom did. With swiftly ascending melodic figures, arpeggios in passagework and chords, lightning-sudden key changes and big dynamic contrasts, and particularly in the use of strongly accented sforzandi (literally "punches") in the opening Allegro of Sonata No. 1, Beethoven makes himself known as a radical new presence to be dealt with.
Sonata No. 3 is an even weightier, more portentous work, adding broken chords and off-beat sforzandi to the composer's arsenal in the opening movement and blistering staccato octaves and trills that ratchet up the level of excitement in the spirited, high-energy finale. Without distorting his interpretation in favor of these "special effects," Brawn uses them as Beethoven surely intended, to keep the listener off-balance and on the edge of expectation.
Finally, we arrive at the "Appassionata" of 1805. Now we realize what Brawn has been doing all along in his beautifully paced and meticulously developed accounts of the two early sonatas. He has been preparing us for their fruition in Beethoven's middle period. What were special effects in Sonatas 1 and 3 are now completely integrated as part of the Beethoven style we all know and love (and which may have been hard at times for his contemporaries to take). Imagination and superlative technique meet happily in the "Appassionata," and Brawn revels in both elements even as he realizes this work's bold formal outlines. He is very much at home with its rich sonorities in the opening Allegro, including the composer's expressive use of what has been termed the piano's "cello register."
Brawn gives proper weight to each of the four almost crudely simple variations in the Andante in order to set us up for the highly dramatic moment when the soft diminished seventh at the very end is succeeded by a much louder diminished seventh, and - Attacca - we are plunged headlong into the maelstrom of the finale. Without pause, Brawn's virtuosity takes us resolutely through this sensational whirlwind movement and its even faster and more strongly accented coda, all the way to the thrilling conclusion. In the process, he does not fail to sound the intended note of desolation when the sonata ends, as do only a handful of other works in Beethoven's career, without the expected major-key resolution."
Phil Muse, Audio Society of Atlanta [February 2013]
James Brawn, a name new to me, was born in 1971 in England and lived in New Zealand, Australia, and the United States as well. His initial training occurred in New Zealand. This album marks the beginning of what may be a complete Beethoven piano sonata series; the disc title is not exactly clear about this though the liner notes hint at it. If that is the case then we are in for one whale of a treat, for Brawn's pianism-and more importantly, his interpretative skills-are formidable indeed, some of the best recent Beethoven playing I have heard, and these sonatas have been coming at us like a hurricane for the last 10 years or so, some brilliant editions in the best modern surround sound, some simply stereo, like this one.
Too often the First Sonata in F-minor is given a perfunctory run-through, a sort of Haydnesque let's-get-on-with-it approach. While the Haydn of the sturm und drang period certainly haunts this sonata all the way through, by the time we get to the end we are in the clutches of a new and full-fledged romanticism, just bursting to escape the confines of sonata form. That doesn't happen here-sonata form remains intact-but you can already see the end coming. The first movement of this wonder is made even more wonderful by Brawn's rather clipped phrasing and ultra-short staccatos-the effect heightens the drama greatly and sets the scene for a performance of infinite affection and intensity. When the last movement arrives he doesn't hesitate to give the piece a flamboyant and flowing sense of pedal and rhapsody which taints the whole work with a sense of something far more advanced than the first sonata the composer ever penned.
The Third Sonata, which is calmer but explores some interesting harmonic byways (and is also dedicated to Haydn), attempts to exploit the piano in ways that it had not been before, ending with great bravura and ushering in a whole new world of pianistic undertaking. Brawn is on top of it all and meets each challenge Beethoven presents.
The "Appassionata" is of course one of the greatest warhorses in the literature, a magnificent example of how Beethoven was learning to manipulate his motives into something far beyond the confines of their initial seeds. The outer movements are sonata form, with the middle movement simple variations, but the drama comes in through the sudden contrasts and tempo changes, keeping the listener on the edge of the seat in this aural page-turner. It's tough for any performance to etch its way into the catalog here, for there are some great ones out there. I remember the old RCA called Last Concert for Israel where Rubinstein gives an electrifying performance while missing what seemed like half the notes in the last movement. Here Brawn zaps us as well, but hits them all in a performance of great finesse and excitement.
I needed to turn the sound up a bit but the results were clear and pure. Keep your eye on this one-it could be a stunner if they take it all the way.
-Steven Ritter
---