We wouldn't blow our own trumpet but we are happy if someone else sings our praises.
There are various places where customers can leave online reviews about Forsyths - the most active of which seems to be our Facebook page and our Google listing - feel free to read and contribute too!
There is also a TrustPilot option for those who don't have a Google or Facebook account.
We also receive many lovely emails and occasionally real letters and cards from customers.
Here are just a few to share.....
_________________
Dear Natalie,
I want you to know how very successful my visit was to the workshop on Friday. The piano looks elegant and charming as a result of Philippa's expert restoration. It now sounds lovely and Joe has done a marvellous job. It has the same warm and mellow tone that I remember but the sound is much more even now, and the notes play well without undue pressure. James' delightful recital demonstrated this beautifully.
I am most grateful to you all. Thank you.
Natalie, you have overseen the whole process superbly. You have kept me informed and have enabled me to visit the workshop as the work has progressed. I have greatly appreciated this. Joe and Philippa have transformed the piano in a way that is sympathetic to its character and history. Their professionalism has recreated a working instrument and a piece of furniture that the family treasure.
We have been associated with Forsyth since the 1950s when our parents first came to Manchester and as a record of this, we still have much of the correspondence (!) The interaction has been pleasurable and this most recent work is the highlight.
Morag - December 2022
_________________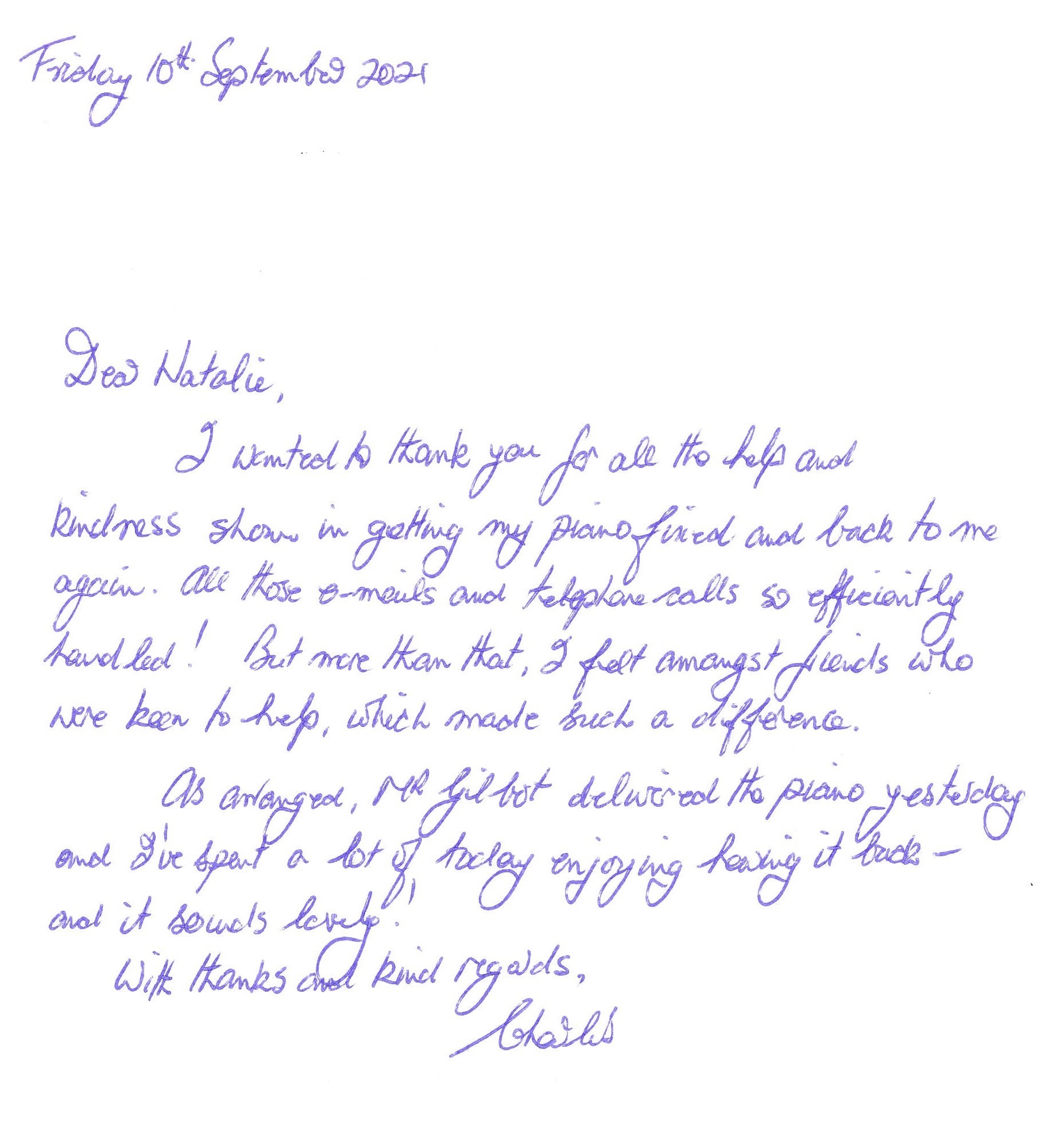 __________________
I have been trying to buy a certain sheet of piano music and in my search I came across Forsyths Music Shop in Manchester. I e-mailed them a screen shot of the one I wanted on the 14th March. I got a reply the next day advising that they had traced an arrangement of what I wanted and would order it; then let me know if it was the same one. I received an e-mail today confirming that it was and gave me options for ordering. I ordered it by phone and it will be posted out 1st class today! I just wanted to thank them publicly for this excellent customer service and would definitely recommend them and use them again..
Pamela Allan - March 2021
__________________
It's not often that one experiences the level of customer service that I had, when dealing with one of your employees yesterday (over the phone) - Natalie.

You should be very proud, to have someone in your business, with her polite manner, patience and attention to detail, when discussing the nuances of my recent order. She was an absolute delight to talk with. I could actually hear her smiling and laughing!

Customers are very quick to write to companies with their complaints nowadays. Not many are prepared to put pen to paper, when a compliment is due. You should hold on to Natalie, and reward her appropriately!

Yours faithfully
Patricia E Manning - January 2021
__________________
So incredibly happy with my purchase of a lovely Ritmuller piano! Sarah guided me through all of the options, answered my never-ending questions and played a demonstration piece on all the pianos I was interested in so that I can easily compare them all. Thankfully they offer financing options so I didn't have to pay it all upfront and it allowed me to take my gorgeous piano home very soon after. Highly recommend. Charles Philpot (via Facebook) December 2020
__________________
Good selection of grands and uprights, plus friendly, knowledgeable staff who can help you find what you're looking for. Definitely worth a visit, even if you don't live locally. Still family-run: a piece of Manchester history. Edward Bhesania (via Google) Nov 2020
__________________
Great customer support from James. Happy to let you try guitars out at your leisure. Best range of acoustic guitars in the north-west. Lyndon Taylor (via Google) Nov 2020
__________________
Just wanted to acknowledge superb service and attention from Forsyth's. I recently needed service advice for a piano bought from Forsyth's a few years ago. The attention from Chris and his colleagues is second to none. Over many years we have bought all sorts from the store from a simple plectrum, drum sticks and sheet music to a piano a couple of years ago. I cannot praise the store team enough. Traditional service values and courtesy along with expert advice will keep our family returning. Thank you so much. - Jim Sharples July 2020
__________________
I have been extremely happy with my experience over the past few months whilst I have taken my time to purchase a piano (a Fridloin F121), Both Keith and Paul have really helped and gone above and beyond Allowing me to try multiple pianos and providing sound information and answering all my queries, the whole experience has been nothing but fun and enjoyable. They also have a fantastic guitar and digital piano department upstairs where i have had experience purchasing an Eastman AC122 acoustic guitar as-well as the sheet music / book section downstair where i have purchase a couple of books such as The Guitar Grimoire. Overall a great experience with every member of staff in each department as-well as great customer service over the phone! Bonus point for the public piano as-well :) - TTWD April 2020
__________________
The staff at Forsyth's are brilliant. I went with my autoharp which I basically knew nothing about other than it needed tuning, and they got it in working order for half the cost I had been quoted elsewhere.

They kept me up to date on how they were doing with it and it was fixed up by a specialist within a week.

In the past I've found some music shops a bit daunting, like you're expected to be an expert, but everyone I've spoken to here has been knowledgeable, friendly and patient.

I definitely recommend them!
Charlotte 2016 (Via Google reviews)
__________________
__________________
I wanted to send a special THANK YOU for the care and skill you put into (tuning my piano) making it cound like a new piano again, it has been a joy to play since your visit. V Sep 2015
__________________
I am writing to tell you how pleased I am with my Schimmel K132T piano...... it is a delight to play.....The piano movers, also, did an excellent job with a difficult manoeuver.........The whole transaction has been a confirmation that Forsyth is to be recommended as the best supplier of musical instruments in this part of the country. P.K. Aug 2015
__________________
I just wanted to thank you for your extremely prompt response to my order of the above book, which arrived in the post today. Excellent service! M.C. Apr 2015
__________________
I bought ..... from your instrument department and was very impressed with your stock and service, ..... was very attentive without being pushy which we liked. R.B. Feb 15
Thank you so much for helping me..... with my C.D. collection......You are the first people that I have trusted to select recordings for me in the 40 years I have collected them. A.J. Dec 2014
I wanted to thank you for the excellent service I received whilst shopping for a new guitar. Your wonderful customer care resulted in me purchasing a Faith Saturn acoustic guitar recently. I appreciated the time I was allowed to compare this superb instrument with others in a similar price range and I am absolutely delighted with my choice. The tone and overall quality of this guitar is truly remarkable – I honestly think it is equivalent to guitars at twice the price. C.A Nov 2014
Thanks for your quick reply on a Sunday. This is impressive. T.Z. Oct 14
Thank you so much for your excellent service. I ordered 4 books of piano music from you on Friday morning and they arrived very promptly on Saturday morning. We had previously ordered the music from ............, and hadn't received a single piece of music after 2 weeks waiting. I'm very impressed with Forsyths and will certainly be getting all of my music from you in future. H.P. Sept 14
I bought a Fylde from Forsyth's in Manchester, which is a great store - I'd be so depressed if that ever closed down. The next time I went in to Forsyth's they asked how I got on with it, and the Fylde has subsequently been on just about every record since ......... an Interview with James Dean Bradfield from Acoustic Magazine Aug 2014
Cambridge University Music Department event, held at Forsyths on 14 June 2014
"We enjoyed partnering with Forsyth Music in delivering this exciting outreach event. We were made to feel very welcome, and the event was a great success for all concerned, bringing a real buzz to the shop floor with the opportunity to connect with local students and teachers in an engaging way. You were so very accommodating, and I found the whole process of planning and delivering the event with you and the Forsyth's team to be stress-free, productive and fruitful! We are committed to continuing our relationship with the North West, and are very grateful for the support from Forsyth in helping us with this work. Thank you - it was really great to work with you. Music Outreach Officer.
I would like to express my thanks for the efficient service Forsyths provided this week. I spoke to a very helpful member of staff on the telephone on Wednesday afternoon who found the saxophone music I was looking for and promptly posted it. I received it on Thursday morning. What an excellent service. Dr J.P. Feb 2014
Many thanks for the next day delivery! The most efficiency from a music shop I have ever had in my long musical history! Best Wishes B.S. Jan 2014
Fabulous, thank you. M.J. Dec 2013
Thanks! That's really helpful! E.T. Dec 2013
To Mike Pearson -- Wow! Your help with the Scarlatti volume is the best customer assistance I can ever remember. R.C. Nov 2013
You can write us a review using the following web sites
There is also a TrustPilot option for those who don't have a Google or Facebook account.