About Us
Current Opening Hours 
Monday to Saturday 10am to 5.30pm
Sunday opening 11am-5pm (resumed Sunday 7th November 2021) 
Bank Holiday Opening Times
We are open 7 days a week apart from Christmas Day, Boxing Day, New Years Day, Easter Sunday and Easter Monday.
On all other Bank Holidays we are open: 11am - 5pm
Other closures
Apart from the above Bank Holidays the only other day we close is for our annual stock take which is normally 30th June or the last Sunday in June or the 1st Sunday in July.
We normally close early on Christmas Eve and New Year's Eve c 3.30pm - please check our website, social media etc for confirmation.
But of course, we are always open at www.forsyths.co.uk!
Contact information
0161 834 3281
Dial extension:
1 for printed music and musical gifts | [email protected]
2 for recorded music | [email protected]
3 for acoustic pianos | [email protected]
4 for guitars, digital pianos, and all other instruments and accessories | [email protected]
5 for piano tuning and repairs | [email protected]
6 for all other enquiries | [email protected]
Location
Forsyth, 126 Deansgate, Manchester, M3 2GR, UK. Telephone: 0161 834 3281  Fax: 0161 834 0630What3WordsFront Door: admire.racing.everBack door - loading area  admiral.newly.caller

We are located in central Manchester on the block next to the House of Fraser store Kendals. There are many car parks close by and the free City Centre bus services (1, 2 & 3) stop close to our door - just outside John Rylands Library on Deansgate coming from the South and outside Barton Arcade on Deansgate coming from the North. All buses link us with the main railway stations. To see the route maps for all the Free Buses and information on frequency click here.
Forsyth
Still owned and managed by the same family since being established in 1857 Forsyth fills its 15,000sq ft (1,500sq m) building in central Manchester with musical merchandise and restoration facilities.  
We have extensive Sales Departments for sheet music, classical & jazz recordings, acoustic pianos, digital pianos, guitars, orchestral instruments and all accessories. We will sometimes take instruments in part exchange - just let us know what you have. We also have piano and instrument repair services with our own tuners, technicians and luthiers.
For schools, teachers and professional musicians we offer full account facilities.
Our team
Our staff are highly experienced, both in terms of retail and musical experience generally.  We are all musicians or music lovers on the staff and this passion and commitment is present in everything we do.  We are fortunate to have a variety of highly qualified performers, teachers, scholars and technicians throughout the store.
Over 40 staff - all experts in their field
15,000 sq feet full of musical merchandise - the largest general music shop in the UK
Piano Department - largest display of quality new and old acoustic pianos in the UK from a diversity of brands
Piano Hire - for concerts and events
Piano tuning, regulation, voicing and rebuilding services.
Sheet Music Department - Comprehensive and independant Sheet Music department - over 30,000 titles in stock and rapid customer ordering service.  Many schools, libraries and universities trust us to supply them with their music.
Guitars - Outstanding array of interesting acoustic and classical guitars as well as many specialist electrics, all carefully chosen by our enthusiast and knowledgable staff - over 300 guitars in total.
Strings - Superior range of instruments including our own brand instruments made for us in Europe.  We have a fully qualified Luthier in store.
Woodwind - Full range available at all levels.
Brass
Percussion
History and background of Forsyth Brothers Ltd.
In 1857 the Forsyth brothers settled in Manchester to help Charles Hallé set up the Hallé orchestra, having learned their trade with their father - the factory manager for Messrs Broadwood in Golden Square, described by Beethoven as the "prince of piano makers". After initially specialising only in Pianos, Forsyth soon diversified into supplying sheet music and all other instruments.  Forsyth is still run by the same family (4th and 5th generation) over 160 years later. During our 150th anniversary year we researched our archives and found a wealth of fascinating information about Forsyth's history. This includes an article that was written about the firm in 1905 for the London Musical Chronicle which is available to view and read here.
---
We celebrated our 160th anniversary in 2017-18 with an on going refit of the store, including the recent replacement of our shop sign, which had survived since our 100th birthday in 1957. Our historic Manchester shop remains synonymous with the supply of musical merchandise, particularly pianos, while our growing online store enables us to supply customers the length and breadth of the United Kingdom and also many parts of the world.
Whatever your requirement you can trust us for advice and after sales service. In Manchester, we have a large shop on five floors (three floors of showrooms) in total covering over 15,000 sq ft. We have well over 200 quality acoustic pianos and 40 digital pianos for you to choose from including Steinway, Bechstein, Bosendorfer, Schimmel, Yamaha, Kawai, Kemble, Opus, Wilhelm Schimmel, Fridolin Schimmel, Ritmuller, Shigeru-Kawai etc.
For over 30 years we have specialised in automatic pianos and are able to provide a variety of alternatives at exceptional prices. We stock a range of Disklaviers and a variety of other automated instruments with the QRS PNOmation system.  Indeed we can automate almost any piano such that it will perform when you press play on any network-enabled device!
In addition to pianos we have a comprehensive Instruments and Accessories Department with over 300 guitars, many string, woodwind, brass, and percussion instruments - plus many other instruments and accessories. We also have a very large Sheet Music Department all backed up by our efficient Mail Order service and friendly expert staff - nothing is too much trouble.
Over our 160 years in business, we have made many contacts in the music business all over the world. If you have any unusual requests please don't hesitate to ask.
Sustainability
Forsyth is committed to reducing its carbon footprint in line with Greater Manchester's zero carbon ambitions. Wherever possible we reuse packaging materials, and recycle where we can't. We look for upcycling opportunities for old piano parts and pallets. The vast majority of our staff access the store by public transport or bike.
Media Coverage about Forsyths
Our 160th anniversary was celebrated in this I Love Manchester article on Manchester's oldest shops. Celebrations were also enlivened by a mystery pianist on the #forsythspiano street piano outside our store. Christopher Scamp's playing was captured on smart phone by a watching member of the public and subsequently went viral on Facebook and other social media, watched by millions of people all around the world. Our subsequent gift to Chris of a Kawai digital piano also went viral, and the piano can regularly be seen on his Facebook Live broadcasts.
We were featured on the BBC1 national TV series Christmas City in December 2016. The series covers all the different aspects and characters of a city as they prepare for Christmas. Forsyth is featured together with Hotel Gotham (Winner of Boutique Hotel of the Year 2016) in Episode 3.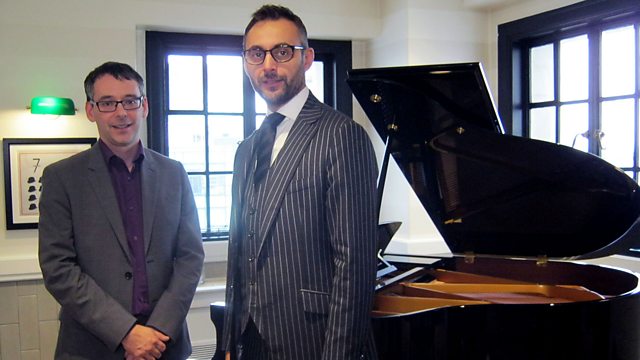 In 2015 we were selected as part of American Express's 'Small Business Saturday' campaign highlighting family businesses across the UK. The Family Businesses campaign also attracted interest from the local and national press.
The Telegraph ran a feature
The businessadvice.co.uk website ran an interview 
The Sun featured us as the first of their top 10 family businesses
Manchester Chamber of Commerce ran a feature in its 53 Degrees Magazine, with this striking cover:
During the Covic-19 pandemic in 2020 Google and the Manchester Chamber of Commerce collaborated to create a Google Arts & Culture page about Manchester. As a living part of Manchester's long musical history they were keen to include Forsyths. The interview via Zoom is a little 'low tech' but gives you a flavour of Forsyths! You can view it here.
In September 2021 Take It Away (a Government-sponsored interest-free finance scheme to help young people purchase instruments) interviewed Emma about the business including modern challenges of the Covid-19 pandemic and trading with Europe since Brexit. You can read the article here.