Bösendorfer
Bösendorfer Pianos at Forsyth Music Shop, Manchester
Bösendorfer is the world's most exclusive piano. Every instrument made in their workshop in Vienna takes a full year's work and encapsulates the culmination of 185 years of expertise gained since the company was established in 1828. The sound of a Bösendorfer is unmistakable, having grown from the unique Viennese musical culture steeped in the music of Haydn, Mozart, Beethoven and Schubert. One of the company's most famous developments is the 290cm, 8 octave 'Imperial' grand, developed around 1900 at the suggestion of Ferruccio Busoni whowas transcribing many of Bach's organ works for piano. The 'Imperial' remains the flagship of Bosendorfer's prestigious piano range to this day.
Many famous musicians have played Bösendorfer pianos throughout the company's existence from Liszt to Oscar Peterson. Bosendorfer retains its prominence today with advocates including Andras Schiff (who chose Bosendorfer for some of his Beethoven Sonata recordings on ECM), Paul Badura-Skoda, and Philippe Entremont. Placido Domingo said: "Sometimes pianists try to sound like singers. Me personally, I try to sound like a Bosendorfer".
All Bösendorfer pianos are made in their workshop in Vienna and the traditional Bösendorfer sound remains. The company now benefits from the marketing expertise of Yamaha, who own Bösendorfer, without losing any of its special qualities and identity as a jewel in the crowns of both Vienna and the piano world at large.
To find out more, please give our piano sales team a call on 0161 834 3281 ext. 604, or pop into our historic piano shop in the heart of Manchester to play Bösendorfer instruments and compare them to other makes such as Schimmel, Bechstein, Steinway and Bluthner. You can also visit the official Bösendorfer website here.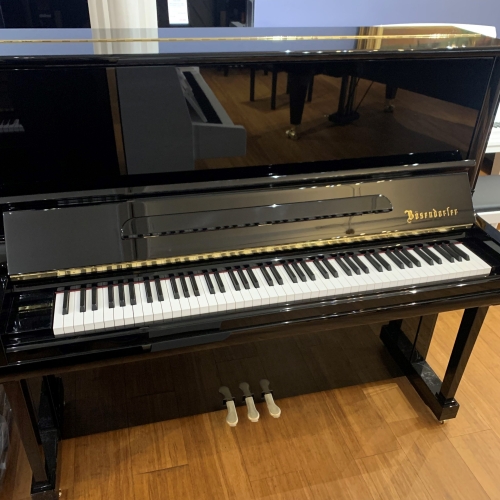 £47,666.00
-£2,098.00
£45,568.00