#mjfpianotrail 2022 6-29 May
Competition to find Manchester's best Street Pianists!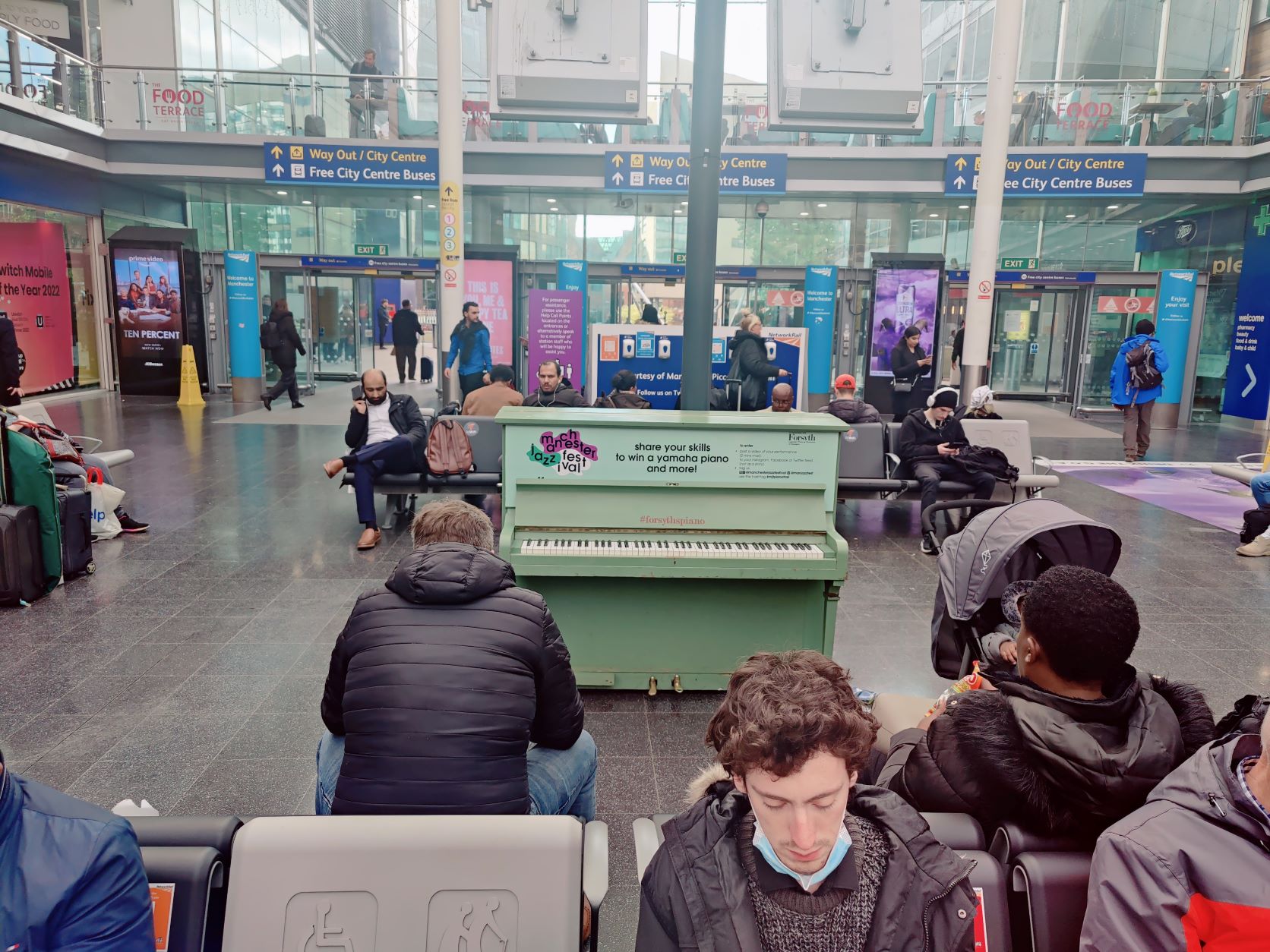 We are proud to be Manchester Jazz Festival's official piano partner and are collaborating on various gigs as well as supplying 13 pianos for Manchester's very first Piano Trail! Over the last week we have been installing pianos across venues in the city centre from Piccadilly and Victoria Stations to Manchester Library and Art Gallery. A wide range of piano enthusiasts have already discovered the pianos and we invite everyone to join in too! You can find leaflets on all the pianos - including our 'new' street piano which is outside the shop during opening hours - which includes a map showing where to find all the pianos as well as details of the full Manchester Jazz Festival this year.
There is also a competition to enter with fantastic prizes - we are on the hunt for Manchester's most entertaining street pianist. You can enter up to the 29th May 2022. Prizes up for grabs including a Yamaha P-45B piano, return ticket for 4 anywhere on the Northern Rail Network, a gift package and vouchers worth over £100 from Quayside Media City UK and a £30 Wagamama voucher for each of the 10 prize winners.
Technical talent or formal training is not necessary, and the competition is open to all from concert pianists to the occasional ivory tickler.
The #mjfpianotrail is part of mjf2022 which will take place at venues across the city from May 20 – 29 - including Forsyth's own historic piano showroom.
For the #mjfpianotrail locations see map below:-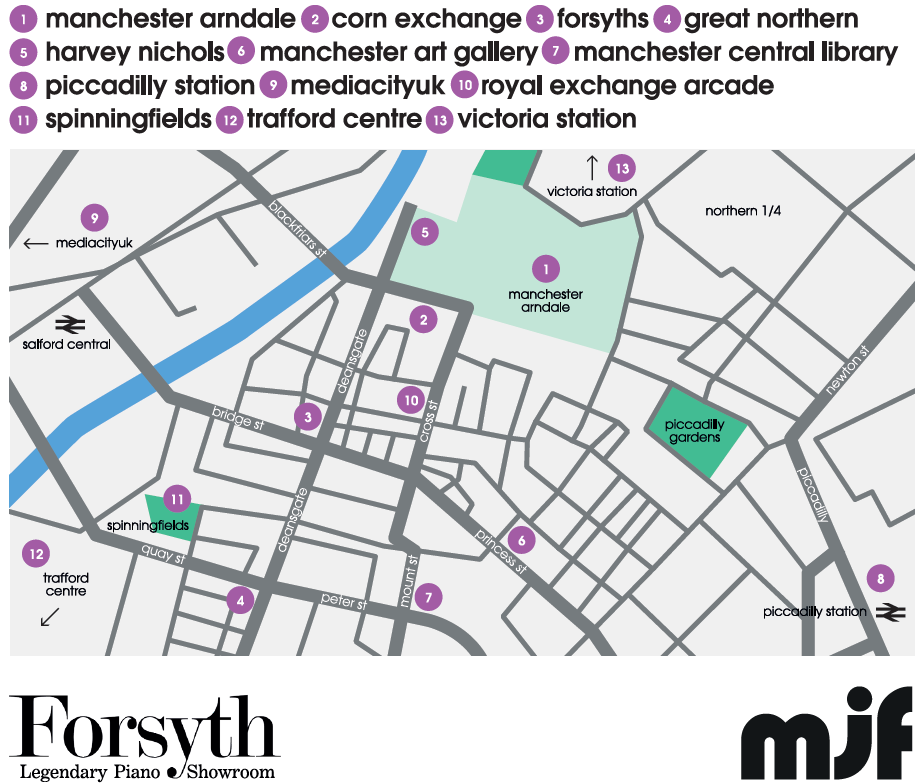 Emma Loat, Manager of Forsyth's Music, said: "For many years, we've had a street piano at the front of the Forsyth's shop on Deansgate so we know that Manchester and the surrounding areas is full of talented musicians and those willing to have a go.
"We're really excited to supply 13 pianos for the mjf piano trail and we'd urge all those budding performers to come forward, have a go and be in with a chance of winning some fantastic prizes."
To be in with a chance to be named one of Manchester's best street pianists, simply find one of the pianos in the trail, capture a short video (2 mins max) of your performance and post the video to your Instagram, Facebook or Twitter account, tagging in @manchesterjazzfestival / @manjazzfest and using the hashtag #mjfpianotrail
Whether you play professional jazz or have never touched a note before there are no rules regarding who can apply, what kind of music you play and what your performance involves.
At the end of the piano trail mjf and Forsyths will select 10 winners based on who showed the most creativity, ingenuity and gave the best performances.
Read the mjf2022 piano trail competition T&C's here
The prizes up for grabs are:
- Yamaha: Yamaha Digital Piano P-45B
- A £30 Wagamama gift voucher for all winners
- Doner Haus: Meal for up to 4 including pre/post drink
- Lion's Den, Deansgate Mews: £50 bar tab
- Manchester Art Gallery: Afternoon Tea for two
- Jenny Jones: a pair of saxophone cufflinks or a soul stone necklace
- 20 Stories: Afternoon tea for two with a glass of fizz
- The Lawn Club: A complimentary pod booking and a bottle of Prosecco, for up to six people.
- Northern Rail: Four tickets at any time to anywhere on Northern rail network
- Quayside MediaCityUK: prize package includes:
• 2 x £25 Quayside Gift Card • Two lots of two tickets to Vue Cinema
• Copy of Salford Edition Monopoly • Two lots of two tickets for ITV Jungle Challenge