Free Lunchtime Concert:
Jerome McGuinness (viola)
Forsyth, 126 Deansgate, Manchester M3 2GR

Saturday 7 March 2020
12.30 – 1.30pm
Limited places: please reserve yours via

events@forsyths.co.uk | 0161 834 3281, ext. 204
Jerome McGuinness, a final-year student at the Royal Northern College of Music, presents early English country dances in popular arrangements for viola and piano by Richard Rodney Bennett and his own new arrangements for string trio.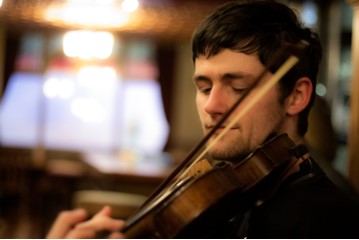 Programme
Selections from John Playford's The English Dancing Master

(first published 1651) in 21st-century arrangements:
* * *
Drive the Cold Winter Away | Parson's Farewell | Pool's Hole

arr. Jerome McGuinness (2020)
Sabrina Ghadouia, violin

Jerome McGuinness, viola
Joseph Harrison, cello
* * *
Buskin | The Czar of Muscovy

arr. Richard Rodney Bennett (2003)
Jerome McGuinness, viola
Josh Urben, piano

* * *
Jerome McGuinness (viola)
Born in Crewe, Cheshire, Jerome started learning how to play the violin around the age of eight but took up the viola as his main instrument five years later, due to favouring its darker, mellower sound. Before starting his studies at the Royal Northern College of Music (RNCM) in Manchester, Jerome was a member of Cheshire Youth Orchestra (CYO) for a number of years as both a violinist and a violist. During his membership, he performed with CYO at venues such as Liverpool Philharmonic Hall, L'Église du Saint-Sacrement in Liège and Onze Lieve Vrouweplein in Maastricht. Additionally, Jerome was part of a smaller ensemble called the "Love Music Trust String Sinfonia", which regularly performs at venues across Cheshire.
Jerome is now in his fourth undergraduate year at the RNCM, where he has viola lessons with David Aspin, the Principal Violist of Opera North. Throughout his studies so far, Jerome has enjoyed many great performance opportunities, with recent highlights including playing Tchaikovsky's Serenade for Strings in the RNCM Strings Festival with acclaimed violinist-composer Henning Kraggerud and taking part in the Nossek Prize chamber music competition with his string quartet.
Although his degree is focussed on performance, Jerome is also a minor composer and has written a number of pieces for smaller ensembles, such as his "Presto in C Minor" for string orchestra, which has been performed several times.
Despite being classically trained, Jerome is also a keen folk musician with a notable interest in the music of the English and French traditions, and regularly plays in sessions across Manchester and Cheshire. This affinity for folk music recently led Jerome and some friends to form a ceilidh band called Chimera, in which he plays the violin, viola and Irish whistle.