POSTPONED: Learn to Play Day

We are sorry to announce that Learn to Play Day has been postponed.

Music for All, the charity which oversees the event at a national level, will announce a new date in due course.

If you had booked a taster lesson, we will guarantee you another at the rescheduled event
and will be in touch with you as soon as the new date is set.

Meanwhile, our doors and telephone lines are open Tuesday – Saturday, 10am – 5.30pm,
and we are always open at www.forsyths.co.uk!
• • •
Learn to Play Day
Free Taster Lessons at Forsyth!
All ages • No experience necessary • Instruments provided
• • •
Forsyth, 126 Deansgate, Manchester M3 2GR
Saturday 28 – Sunday 29 March 2020
• • •
Book your places via: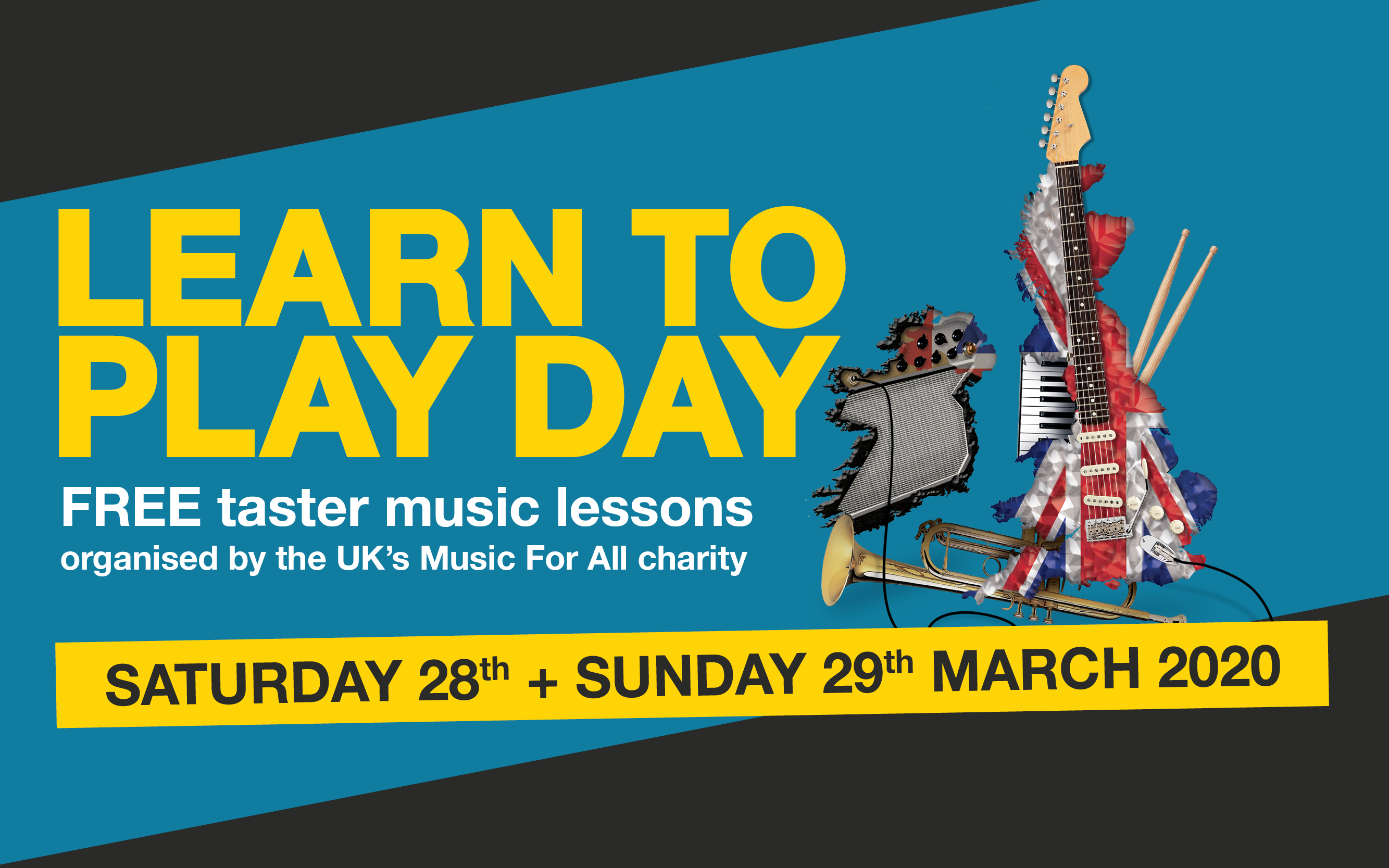 Free Individual Lessons (20 mins)

Saturday 28 March 2020: 9.30am – 5.30pm
Sunday 29 March 2020: 11.30am – 5pm
Piano   Voice   Guitar   Bass Guitar   Ukulele   Violin   Viola   Cello   Double Bass
Recorder   Flute   Clarinet   Saxophone   French Horn   Trumpet   Cornet   Trombone
• • •
Free Group Ukulele Lesson (60 mins)

Sunday 29 March 2020: 3pm – 4pm
• • •
After Learn to Play Day: Continuing your lessons at Forsyth!
If you enjoy your taster session during the Learn to Play Day weekend
and would like to continue to have lessons here at Forsyth,
we have a roster of brilliant teachers available to provide lessons all year round!
• • •
Learn to Play Day is a nationwide event encouraging people all around the UK to take up an instrument, or to return to an instrument they used to play. It has been organised annually since 2012 by the charity Music for All and is supported by the likes of Dame Evelyn Glennie, Rick Wakeman, Gareth Malone, Gordon Giltrap and patron Jools Holland.
We have supported Learn to Play Day since it began, and it's always wonderful to welcome so many people to the shop and hear their stories. For some it is a dream come true to have a go on an instrument they've always wanted to try. For others it helps them overcome the practical or psychological barriers associated with starting a new instrument or returning to one they used to play. And for many children and their parents it's the perfect way for them to try out several instruments before they commit to a course of lessons.
This year, we are looking forward to another fun weekend open to everyone, adult or child, who would like a free taster lesson on a musical instrument. Each lesson will be for an individual learner and last 20 minutes and we will be happy to lend you an instrument for the session if you do not yet have your own.
We have volunteer teachers – Forsyth staff, local teachers, and students from The Royal Northern College of Music and The University of Manchester among others – ready and waiting to teach you.
Everyone attending a lesson will receive a goody bag, including a voucher for special on-the-day in-store-only discounts!
Booking Information
Register for free taster lessons via [email protected] or 0161 834 3281, ext. 204
Please let us know the following information:
- learner's name and age;
- which instrument(s) they would like to learn to play;
- whether they would like to borrow an instrument for the lesson;
- learner's availability on Saturday 28 or Sunday 29 March 2020;
- telephone number and email address of learner, parent or guardian.
Lessons will be allocated in March on a first-come, first-served basis and according to the availability of suitable teachers and space. Please note that anyone under the age of 18 attending a lesson must be accompanied by an adult. As in previous years, we will be making use of any available space as temporary teaching areas: offices, workshops, storage rooms, even our shop window! Here are some more pictures from Learn to Play Day 2019...